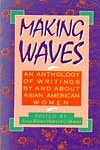 Paperback: 481 pages; Publisher: Beacon Press; ASIN: 0807059056; (July 1989) Order from Amazon or Eastwind Books of Berkeley
Making Waves: Writings By and About Asian American is one of the first collections of essays, poetry, short fiction, and memoir by and about women of Chinese, Filipina, Japanese, Korean, Southeast Asian and South Asian ancestry. Edited by a collective that includes Emily Cachapero, Chung Hoang Chuong, Elaine H. Kim, Janice Mirikitani, Jane Singh, and Judy Yung and with an introductory essay by Sucheta Mazumdar, Making Waves has been a foundational text in women's studies classes across the country for the past decades.
From Publishers Weekly
This potent, fertile collection of fiction, poetry and essays by 53 Asian-American women challenges stereotypes of female docility and subservience that stigmatize those whose roots are in China, Japan, the Philippines, Vietnam, India, Korea, etc. Only a few of the startlingly forthright voices are well-known outside the Asian-American literary and scholarly milieus: Cathy Song, for example, won the 1983 Yale Series of Younger Poets award and Kitty Tsui is a widely read poet in feminist circles. Yet all have messages to convey, and do so in the incandescent language of those struggling for survival in a hostile environment. Contributors here discuss the realities of immigrating to an alien land; the history of Asian-American women's work in the trades and professions; anger at injustices they confront as women and as Asians; and the activism that has helped them to discover their identities. South Asia Bulletin co-publisher Sucheta Mazumdar's introduction, "A Woman-Centered Perspective on Asian American History," provides valuable context for the kaleidoscopic views expressed in this remarkable volume. Asian Women United of California, whose members edited and contributed to Making Waves , is a nonprofit organization founded in 1976 to promote the social, economic and general welfare of Asian-American women.